You can scan e-tickets with your phone.
When you create a ticketing event form on Zeffy, e-tickets can be generated. This will appear as a PDF in the thank you email that goes out to all buyers. The PDF will be the e-ticket, which will contain a QR code that you can scan in-person at your event. You can scan the QR code with any phone that can scan a QR code. You do not need any special app to scan a code!
🎟️ When you scan a QR code, your Zeffy dashboard will automatically be updated.
❗Some important notes:
Each ticket can only be scanned once. You can see if the ticket was already scanned under "Fundraising" > "My payments", and click on the transaction. To see the date and time the ticket was scanned, either scan the ticket again and the time stamp will appear on the scanning page, or export the list of your sales under "Fundraising" > "My payments" > "Export" and there will be a scan date column.
If a buyer buys multiple tickets, they will receive as many QR codes as there are tickets.
You will need internet access to scan tickets!
✅ Example of a successfully scanned QR code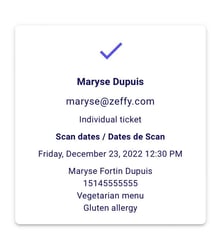 ❌ Example of a QR code scanned twice