Let's walk through the signup and account setup process together!
Welcome to Zeffy!
Zeffy is 100% free for nonprofits. All of our services and products are 100% free. We also cover 100% of credit card transaction fees. We've put together a series of instructions to get started on our platform.
1) Sign up for a new account
Create your account here.
The first thing you'll have to do is add your email, your name, the name of your organization your phone number, and your website.
Make sure to check whether you are a US or Canadian account❗You won't be able to change this later on.
Set your password and click on "create account"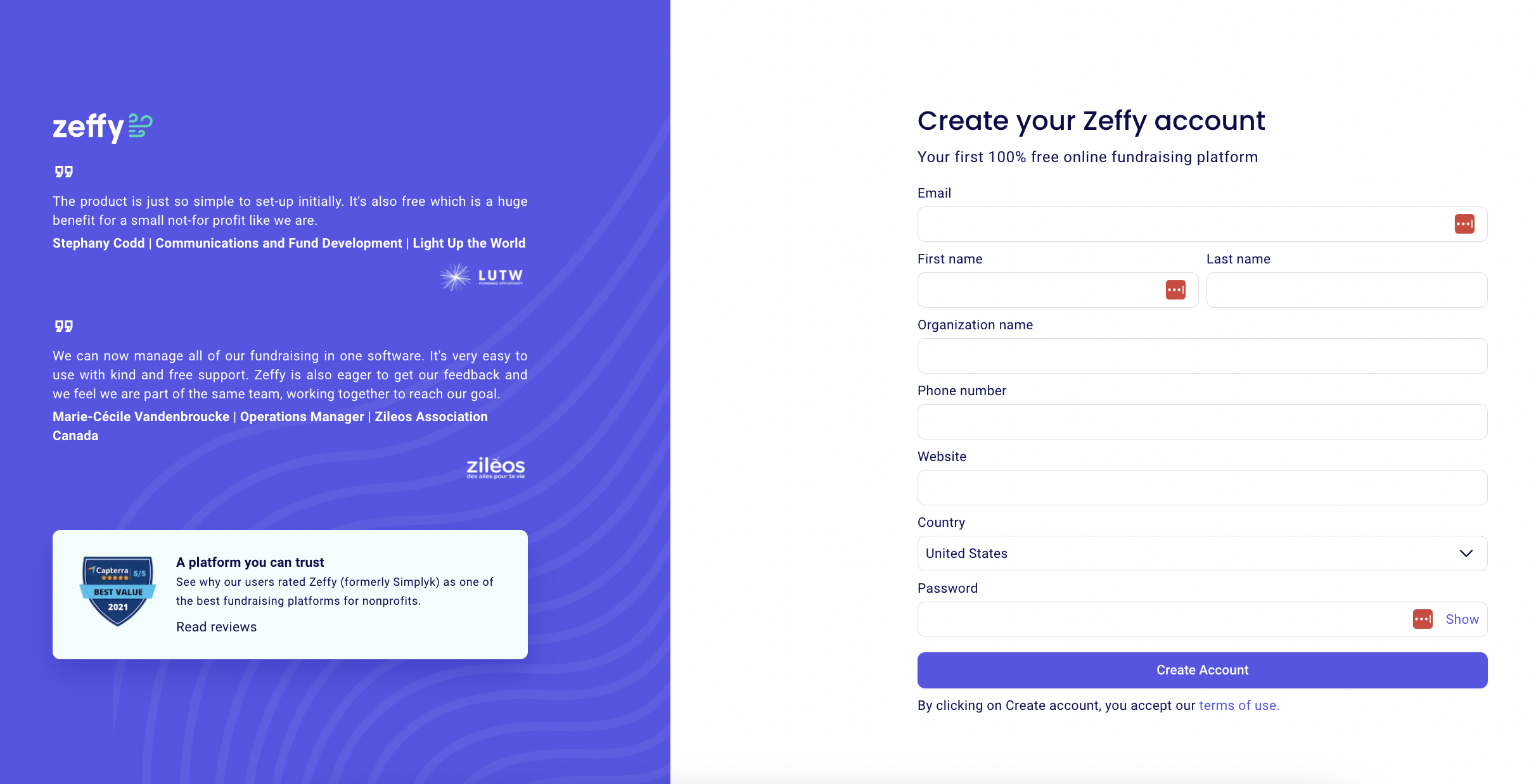 2) Run through the onboarding steps
As a new account, the first thing the platform will do is ask you to get started. This is part of our onboarding flow so that you can familiarize yourself with the platform and its functioning.
Follow the steps to create your first form.❗Search our knowledge base for tips on how to create your first form.
Once you have done this, you will be taken to your dashboard.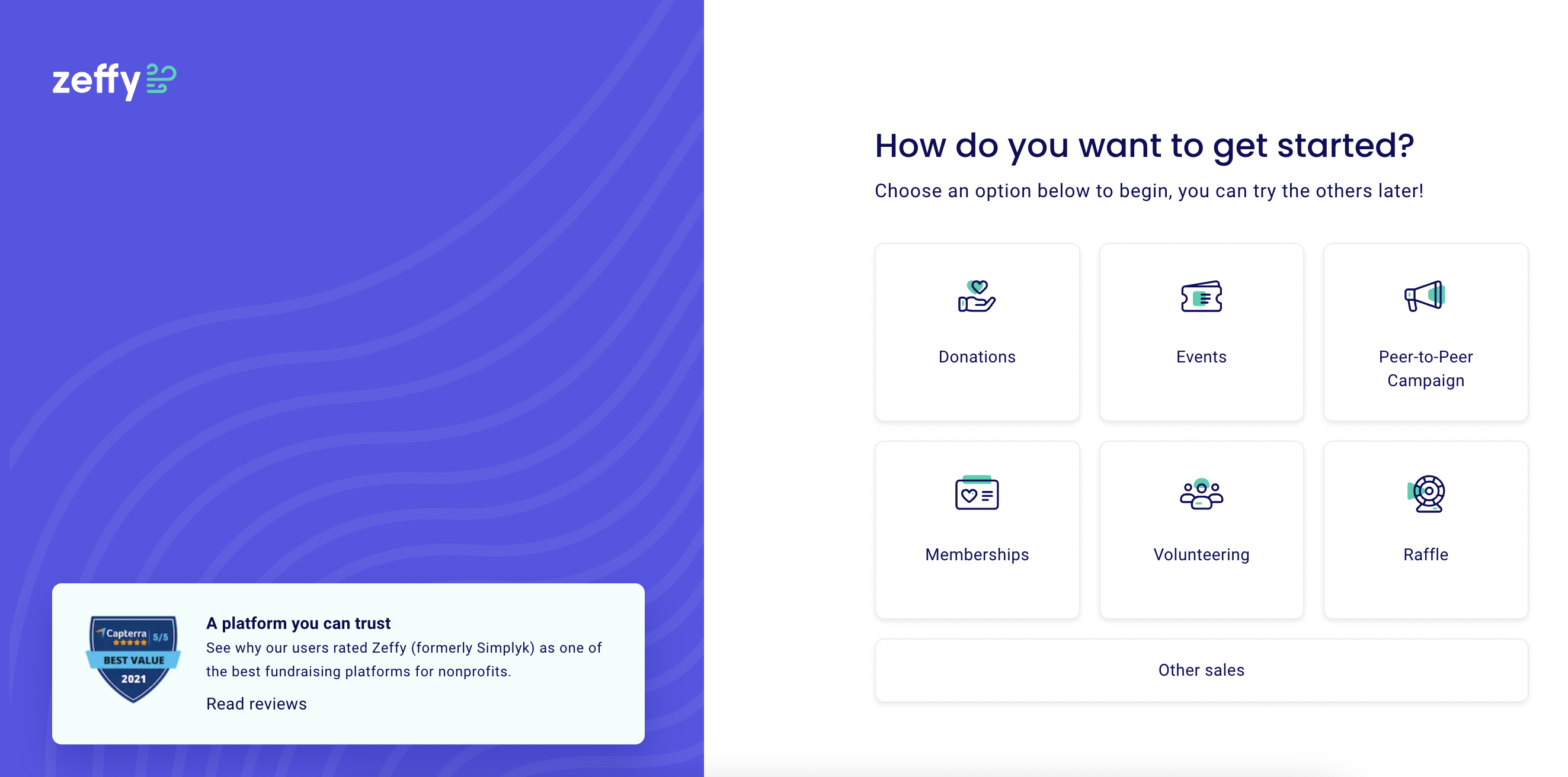 3) Add your administrative information
Once you've completed your onboarding flow, you can go ahead and add your administrative information and connect your bank account. Go to the "bank" tab in the left of your menu and click on connect your bank account.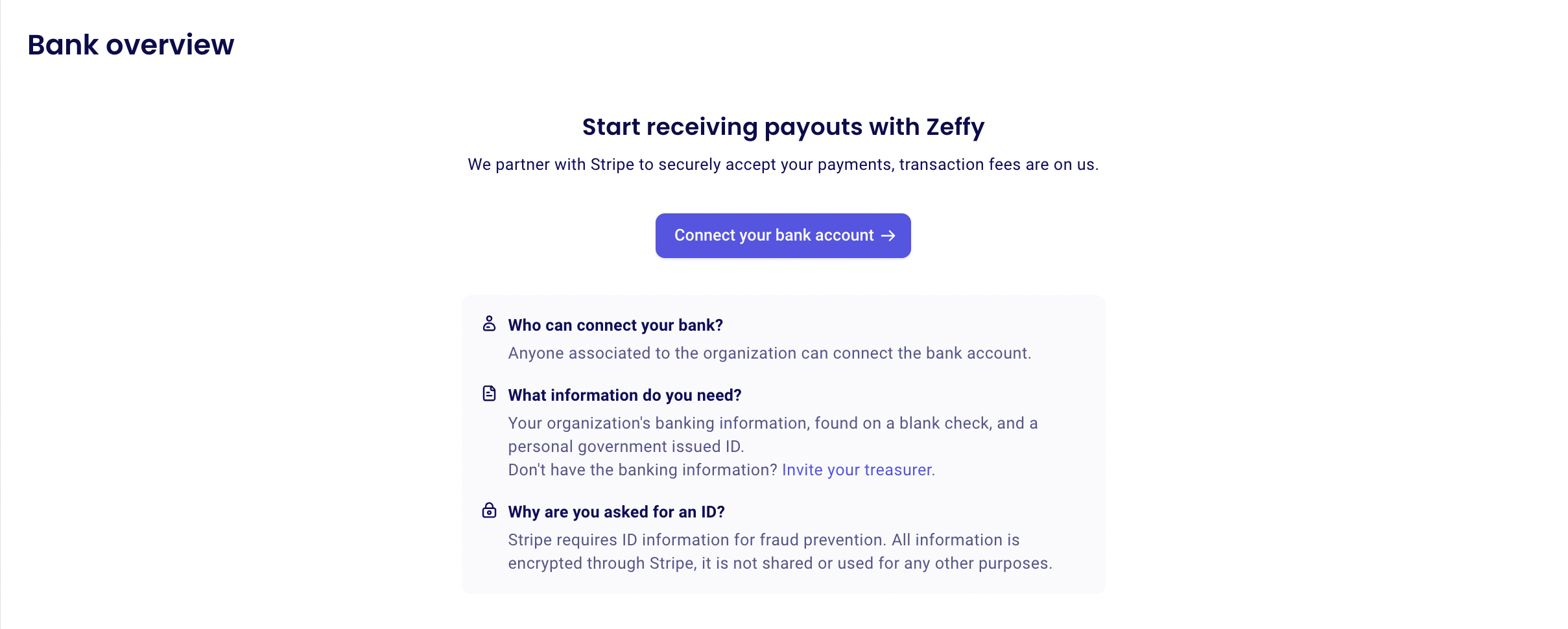 Before connecting your bank account, you'll be asked to add your administrative information – this includes the type of your organization, the address of the organization, and much more. A few important tips:
🇨🇦 If you need to generate official tax receipts as a registered Canadian charity, make sure to upload your charity number and an electronic copy of the signature of somebody authorized to sign on behalf of your non-profit.
🇺🇸 If you need to generate official tax receipts as a registered American charity, make sure to select that you are a 501c3 organization and enter your EIN.
Make sure to add a "description on your contacts bank statements" to make sure that your donors and buyers recognize their payments to your organization.

To go back and make edits to the information entered here, click on your name in the top left of your dashboard, then click on "Settings". You can edit this information under "Organization Information"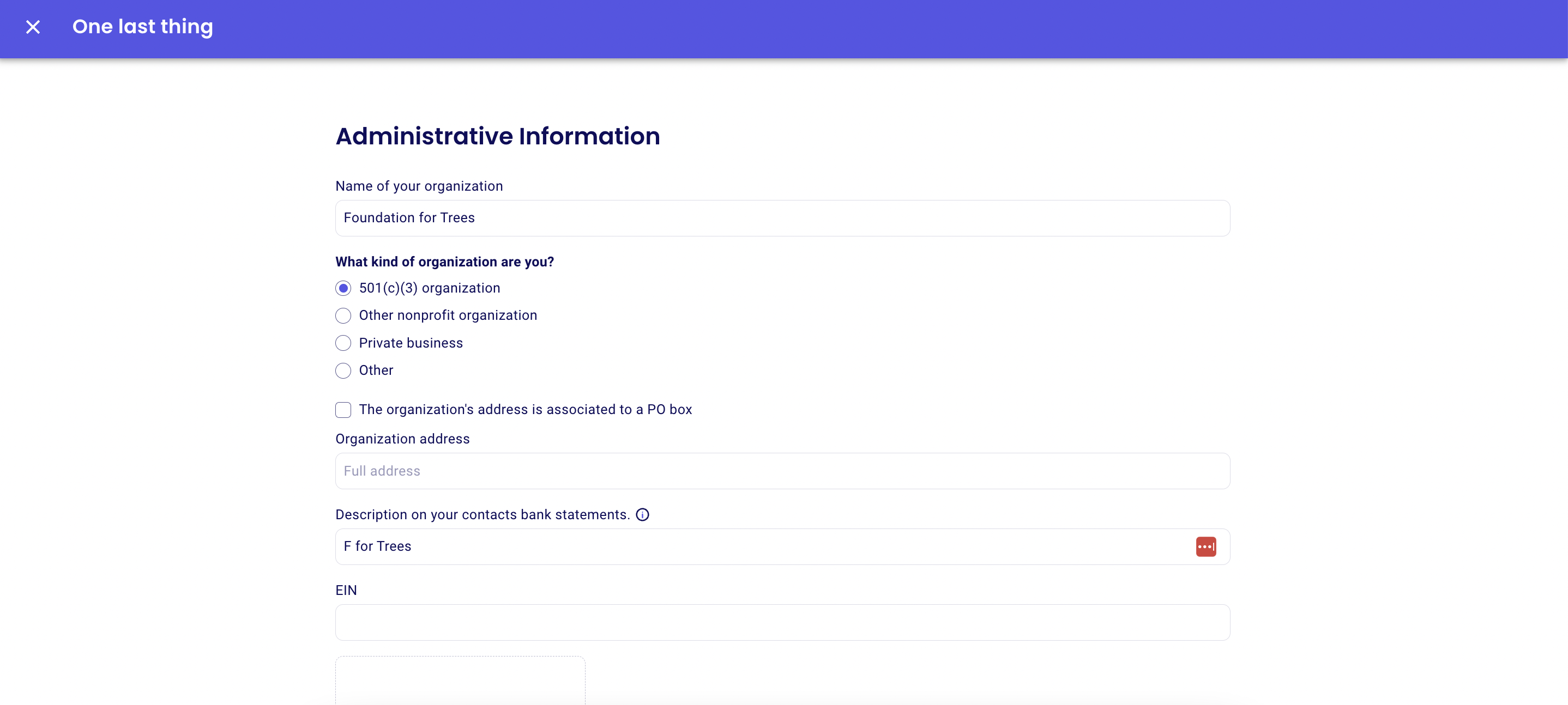 4) Complete the Stripe verification
Zeffy is partnered with Stripe, a global leader in online transactions. By using our platform, you can connect your bank with Stripe. This allows you to track your payments, manage deposit frequency, and analyze your data directly from your Zeffy account.
Stripe will guide you through their verification steps. Here is the information you will be asked for:
The legal name of your organization. Please note that the name provided must exactly match the name associated with your EIN.
The address of your organization
The legal representative of the organization's information (name, date of birth, address, a photo of your driver's license or ID)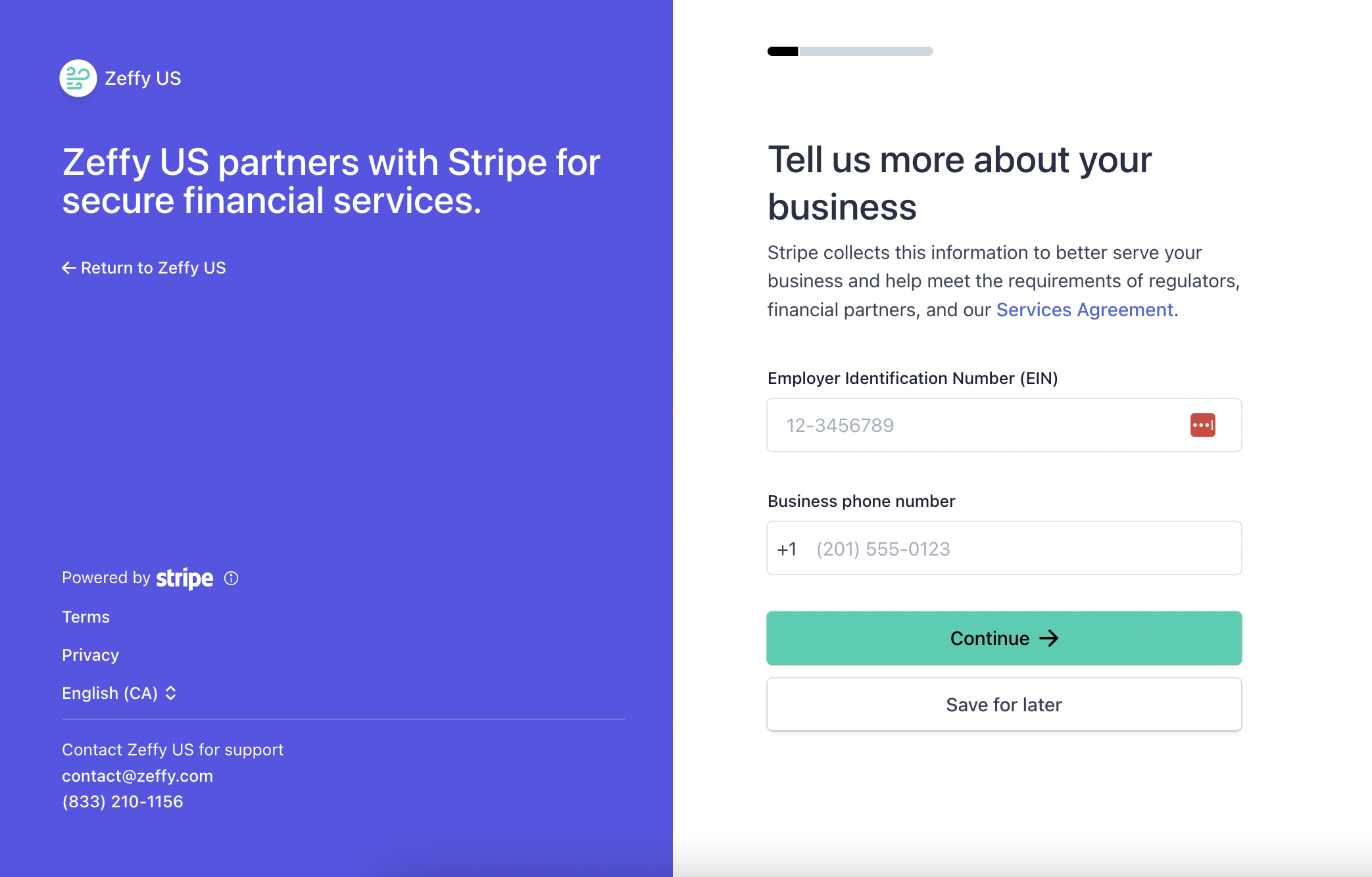 For more information on the bank account verification process and common things to be aware of, we invite you to take a look at our instructions here:
5) Connect your bank account
Have a blank cheque ready! The final step of your bank account connection will be adding the banking information of your non-profit's bank account. This is where your funds will be paid out, according to your payout schedule.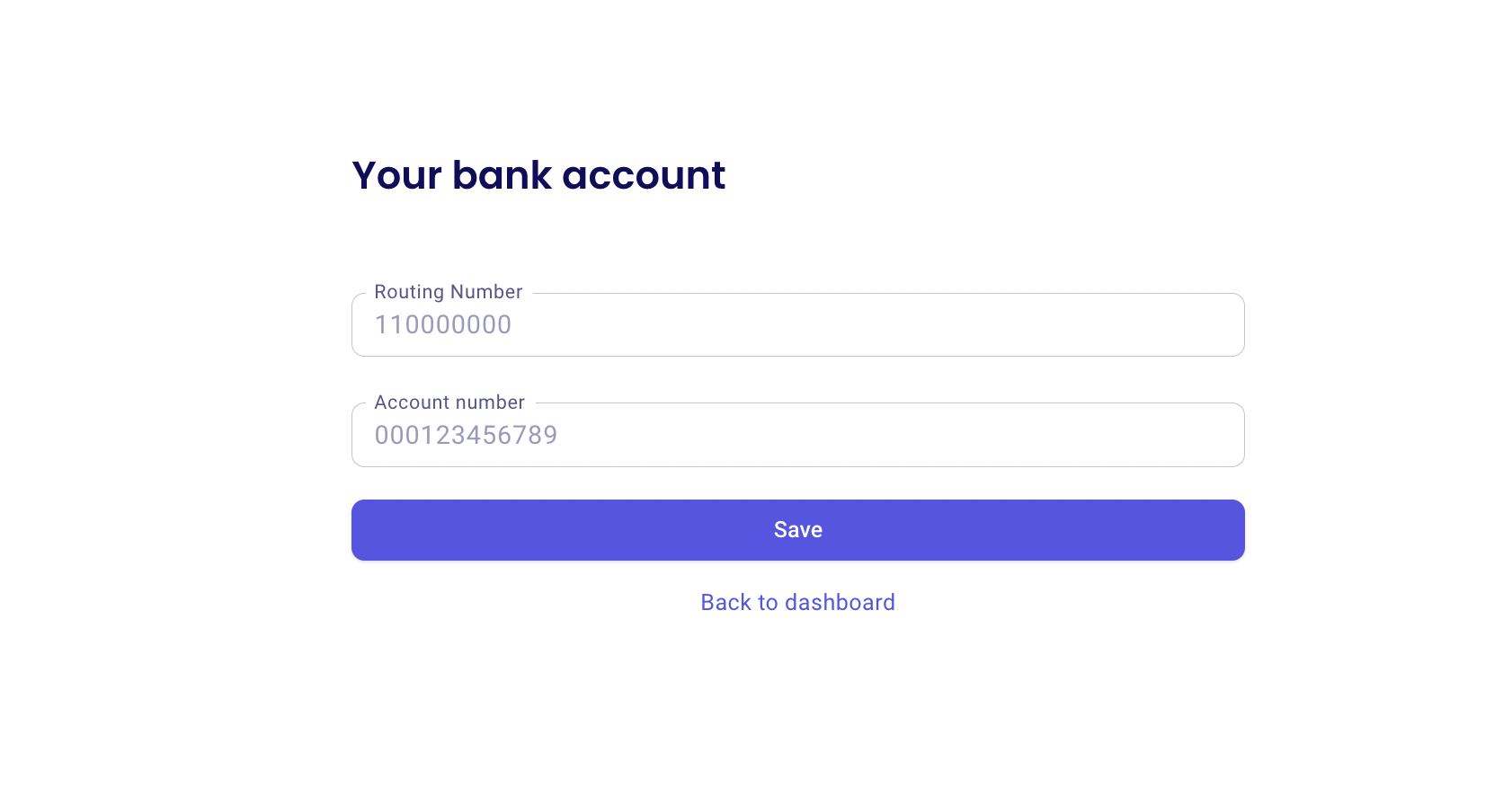 6) Add your team
Go to the Settings section of your dashboard by clicking on the arrow next to your name in the menu bar. Next, click on "User Management", and click on "Add user". You can add as many users as you'd like, and restrict permission across different sections of the product! For more information, consult our documentation here.

Congratulations on setting up your Zeffy account! You can take a look at the following pages if you need help setting up your first Zeffy form:
7) Advanced Tips
Creating a second account – do you work with multiple nonprofits but want to use the same email for your Zeffy login or account? You can create multiple accounts with the same email. To do this, you can:
Log in on a computer to your Zeffy dashboard.
Click on the Settings icon next to your name.
Click "Create a new organization" in the menu.
Enter the information for your new organization!
If you have any questions, please don't hesitate to reach out by clicking on the chat icon in the bottom right of this page or your dashboard.