Here are some steps to help you set up a donation campaign on Zeffy.
Create your donation campaign:
Log into your Zeffy dashboard on a computer.
Click on "Donation" in the menu bar on the left.
Click on "+ New form" and select the Donation Campaign option

1) Add your general information
Add a form title, select your language, and add a description for your donors about your non-profit or what the donation will be used for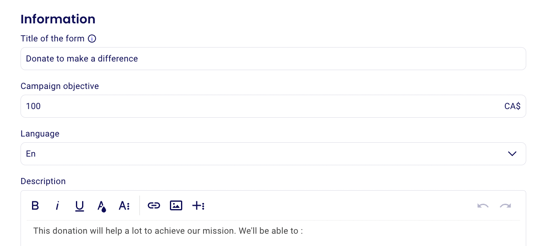 Set your donation campaign objective! This will add a thermometer to your form where donors can see how close you are to your campaign objective and who has donated!
Click on "Next" at the top right-hand corner of the page.
2) Customize your donation campaign
You are now in the "Create your form" section of the page.
You can customize the pre-suggested donation amounts and add a description next to each amount.💡 Please note: All our forms will also have an open field where donors can enter the amount of their choice!
You can also turn on or off either one-Time or Monthly donations

Turn on automatic tax receipt generation if you want a tax receipt to automatically be generated when a donor makes a donation. ➡️ Don't see this option? Your account might not be set up correctly (learn more here)

Add your logo, an image or a video link to customize the look of your form!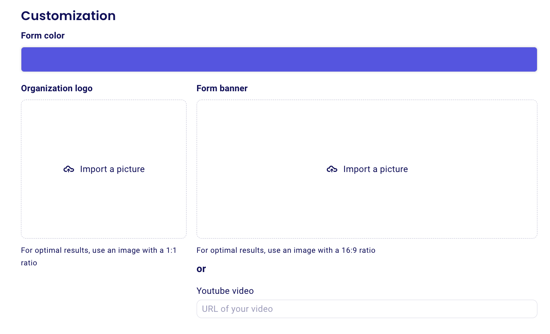 Add custom questions to your donors!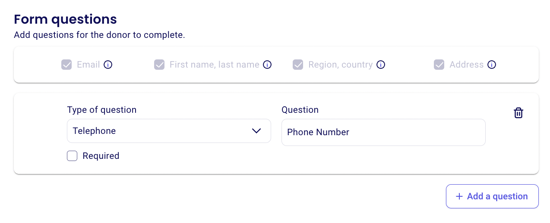 Customize the thank you email to your donors that they receive when they make a donation.

Click on "Create" in the top right of this page once you're done with this section. This will finalize the creation of your form and will save it in your dashboard so that you can go back and edit it. If you don't click on create, your edits and creation will be lost.
3) Share your campaign
In the fourth step, you can share the form to your campaign.
Under "Form Link," you can copy and paste the URL to the form.

You can also share your event by embedding it on your website or by using your unique QR code. For more information on how these options work, consult our documentation here.
4) Advanced Settings
In your advanced settings, you can:

Activate an "in honour or in memory of" donation option
Enable paying by cheque for payments above 500$.
Add your email in the notification field so that you can be notified each time somebody makes a donation on your form.

Please note: when you create a donation campaign, it is not automatically published anywhere, so be sure to share your donation campaign with your community.
You can also go back and edit your donation form at any time, by going to "Donations" > "My forms", then "Edit" next to the name of your donation campaign.