Easily set up an open registration or paid registration P2P campaign in Zeffy!
What is a P2P campaign:
A peer-to-peer campaign is a fundraiser that an organization hosts, but allows participants to sign up to raise money on their behalf. It is a great option for organizations that want to leverage their donors' networks to raise funds.
There are 2 types of peer-to-peer campaigns: open registration and paid registration.
An open registration campaign allows participants to create and share their campaign in one step, or to join an existing team directly.
Paid registration campaigns have a registration component, in which participants first have to sign up for the event through a separate form. If you're organizing a campaign in which participants will be required to pay a register (for free or for a registration fee), you should go with a paid registration campaign.
Create your P2P campaign:
Log into your Zeffy dashboard on a computer.
Click on "My forms" in the menu bar on the left. Click on "+ New form" and select the Peer-to-Peer option

1) Add your general information
Add a form title, select your language, add your overall campaign target and add a description for your donors about your non-profit.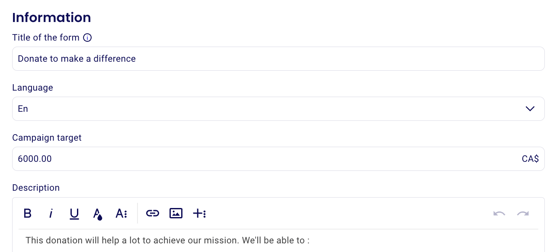 2) P2P Settings
Below your form description, you will be able to customize your P2P event.
Activate or deactivate team creation or individual participant pages. By default, your P2P campaign will have both enabled. If you only want your fundraisers to be able to create team pages or vice versa, deactivate these options accordingly.

Add a paid registration process. If you would like to add a registration process to your peer-to-peer campaign, click on "add registration process."
The paid registration process
You will be able to add different registration rates. You can set the ticket prices to 0$ if this is a free registration P2P. Alternatively, you can add rates based on the different registration types people can purchase.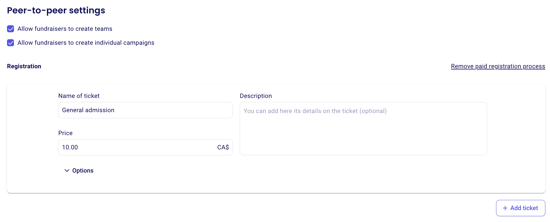 Include the registration fees in your thermometer: If you check "Include registration amount paid in the campaign thermometer," the registration fees that you collect through an event form will be added to your peer-to-peer campaign thermometer.
Mandatory Registration: If you check the option to make the registration process mandatory. If you activate these options, individuals will have to go through the registration steps before being able to create a participant page or team page.

If you have added a paid registration, Zeffy will automatically create an event form that will contain your registration rates and more. Once your P2P form is created, you will find your registration form under "my forms" if you need to make any further edits.
Customize the message to your fundraisers which will be sent to anyone who fundraises for your campaign.

Click on "Next" at the top right-hand corner of the page.
3) Customize your peer-to-peer campaign
You are now in the "Create your form" section of the page.
You can customize the pre-suggested donation amounts and add a description next to each amount.💡 Please note: All our forms will also have an open field where donors can enter the amount of their choice!
You can also turn on or off either one-time or monthly donations if you want your P2P form to only have one-time donations.

Turn on automatic tax receipt generation if you want a tax receipt to automatically be generated when a donor makes a donation. ➡️ Don't see this option? Your account might not be set up correctly (learn more here)

Add your logo, an image, or a video link to customize the look of your form!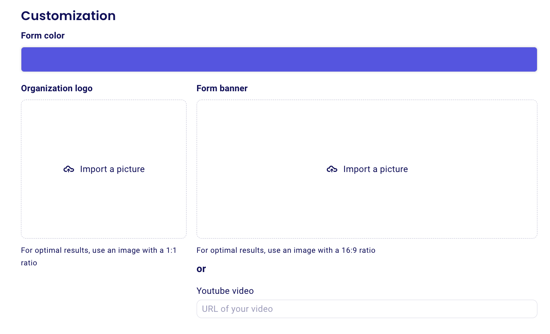 Add custom questions to your donors!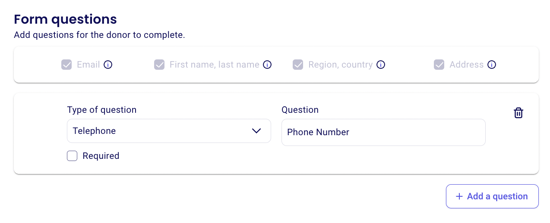 Customize the thank you emails. You will see the option to configure two different thank you messages. The thank you configuration will be the email that will be sent to anyone that donates to your campaign.

Click on "Create" in the top right of this page once you're done with this section. This will finalize the creation of your form and will save it in your dashboard so that you can go back and edit it. If you don't click on create, your edits and creation will be lost.
4) Share your campaign
In the fourth step, you can share the form to your campaign.
Under "Form Link," you can copy and paste the URL to the form.

You will also have access to some custom & direct links. For example, if you want to share a URL that takes your donors directly to the team creation page, you can share the corresponding special link.

You can also share your event by embedding it on your website or by using your unique QR code. For P2P campaigns, you will find the option to embed your overall campaign, or only your leaderboard or thermometer. For more information on how these options work, consult our documentation here.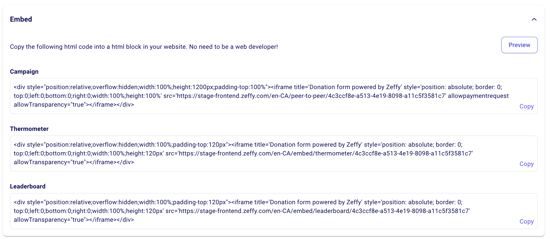 5) Advanced Settings
In your advanced settings, you can:

Activate an "in honour or in memory of" donation option
Enable paying by cheque for payments above 500$.
Rename the "Fundraise" button. If you'd like to rename the fundraise button that shows up on your form, check the "Customize button label" box. There, you can change the buttons to say the word(s) of your choice!




Add your email in the notification field so that you can be notified each time somebody makes a donation on your form.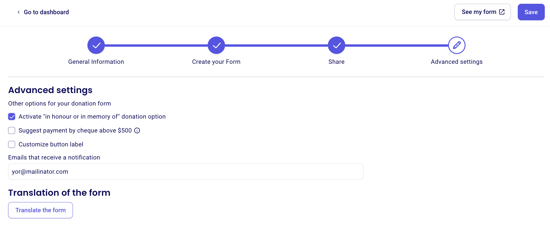 Please note: when you create a P2P campaign, it is not automatically published anywhere, so be sure to share your donation campaign with your community.
You can also go back and edit your donation form at any time, by going to "my forms", then "Edit" next to the name of your donation campaign.
Advanced Tips for Peer-to-Peer Campaigns
Add a manual donation: You can increase the peer-to-peer thermometer by adding donations to the campaign manually. Go to Donations in your Zeffy dashboard and click "Add donation" on the top right corner. Select the peer-to-peer campaign from the drop-down menu.
Managing individual campaigns: Donors can make changes to their campaigns by logging into their Zeffy account. If you'd like to disable this option, write to us at contact@zeffy.com.
Reassign donations: If a donor made a mistake and donated to the wrong campaign, you can easily reassign the donation in your Zeffy dashboard. To do this, find the donation transaction under "My payments", click on the transaction, and then click on the drop-down menu that appears in the little page that pops up. Select the campaign the donation should go to, and then you're all set! The donation has been reassigned to the right campaign! You can find more detailed instructions here.
P2P URL options:
Pre-filling the target amount: You can send your donors a custom link that will have the target amount you'd like them to raise pre-filled. To do this, add the following extension to your campaign URL before sharing it: ?openFundraiser=True&target=20000
For example https://app.simplyk.io/peer-to-peer/1bec4eda-7b6c-459f-b992-1cab4095924d?openFundraiser=True&target=20000
Direct link to creating a team: If you'd like fundraisers to be taken straight to the sign up page, add the following extension to your campaign URL before sharing it: ?openFundraiser=True
Open your P2P form on the "Create a team page": If you'd like your P2P form to open directly on the team creation page, add the following extension to your campaign URL before sharing it: ?openTeamCreation=True
Open your P2P form on the "Join a team page": If you'd like your P2P form to open directly on the join a team page, add the following extension to your campaign URL before sharing it: ?openTeamJoin=True