Add a donation, find a tax receipt, add some notes and tags -you can do a lot on your donor's profile page!
Here are some of the things that you can do when clicking on your donor's name in your Zeffy dashboard to access their donor page.
See their past donations, tickets, and tax receipts
See and edit donor contact information (email, address, name)
Click on the little pen next to your donor's information to make any changes.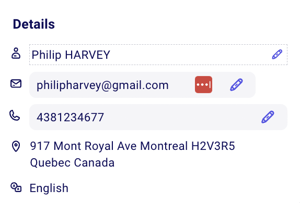 Send an email to your donor
Click on "new message" in the top right of your donor's profile.

Generate a tax receipt, or add a donation or a ticketing order
Click on "actions" in the top right of the page. You will see the options to manually add a donation, an order, or tax receipt for this specific contact. All necessary contact information will already be pre-filled when clicking any of these from the contact page.

Add dated notes
Click on the little + to the right of the notes section to create a new note. This will make it easier to filter this specific contact.

Add tags
Click on the little + to the right of the tags section. You will be able to either select an existing tag or create a new tag.