More information on Zeffy's payment receipts and invoices.
Payment Receipts
When a purchase or donation is processed through Zeffy, we automatically send a payment receipt to your buyer in the form of a confirmation email. This confirmation email includes the following:
Personalized Thank You Email: Your organization can add a personal message thank-you message to donors.

Tickets and/or Tax Receipts: If applicable, the confirmation email will contain any tickets or tax receipts associated with the transaction.

Payment Receipt: At the very bottom of the email, your buyer will find their payment receipt which will outline the details of their payment. Below is an example of what it looks like: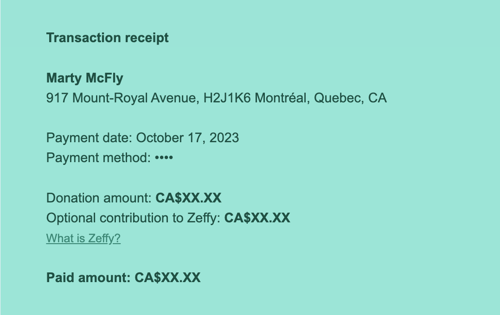 Locating the Payment Receipt
If a buyer or donor of yours cannot locate their confirmation email and receipt, here's what you can do
Invite them to check their spam folder – sometimes, receipts may end up in your spam or promotions folder, so make sure they check those folders

Resend the receipt – Go to "my payments" and click on the transaction in question. In the page that opens to the right, click on "resend the receipt."
Issuing Transaction Receipts with more information
Some non-profits will want to issue receipts that contain more information than what Zeffy included. Here are the ways in which more custom receipts can be created available:
Include in Thank You Message: Any additional content that needs to be on the transaction receipt can be included in your personalized thank you message. By doing so, all the necessary details will be included in the same email

➡️ How can I edit the "Thank you" or confirmation email?

Use an external Invoice Generator: For more complex transaction receipts, an alternative to Zeffy's receipt would be free invoice generators. Text editor tools like word have receipt templates that will allow you to include more information if necessary. These can be sent to donors separately.