You can customize a thank you note that appears in the confirmation email your donors receive after they make a donation.
❗The "Thank you" email can be customized for each of your form. If you have multiple forms, make sure you customize it for all of them.
To proceed :
In your Zeffy dashboard, click the "Donations" > "My forms" on the left side menu.
Select the form for which you wish to customize the email, and click "Edit".
Once in the form editor, go to the "Create your form" section :


Scroll down the page to the "Thank you configuration" section.
Edit the "Email subject" to make it easier for your donors to recognize the email purpose.
Then, edit the body of the email. Make it personal, indicate how your donor's gift will help support your mission, and provide any additional information regarding your organization. You can also add your contact information if you wish to.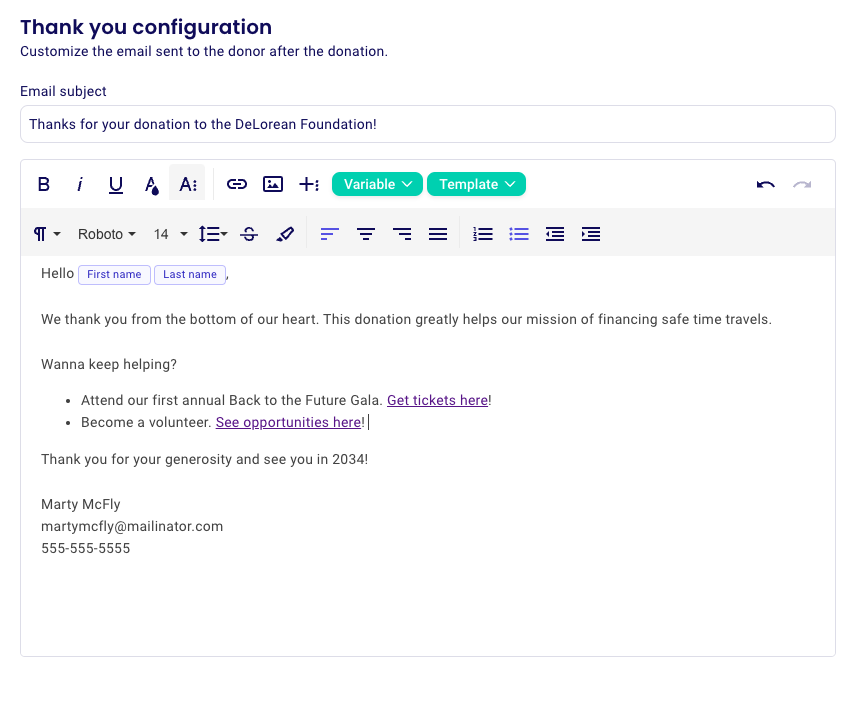 💡 Confirmation emails have high open rates. Take this opportunity to pass along important messages to your donors, and make sure you include links to your organization's other opportunities and events. Make sure you update the content of your "Thank you" note on a regular basis to keep it interesting and up-to-date!