Here's everything you need to know if a donor or buyer of yours disputed a charge
1️⃣ Why did my donor or buyer dispute their payment?
A payment dispute or chargeback occurs when a cardholder files a claim with their card-issuing bank to request a reversal of the charge. Most often, this happens when an individual doesn't recognize a charge from Zeffy on their bank statement and issues a dispute with their bank.
2️⃣ What happens when a charge is disputed?
As soon as a donor disputes a charge with their bank, the funds will automatically be removed from your account and returned to the buyer. This is because credit card companies will always protect cardholders before merchants.
As soon as the bank informs us that a donor has disputed the charge, you will immediately be informed via email that a charge was disputed. We will inform you of the charge that was disputed and will provide the buyer's contact information in said email. The buyer will also be informed that they disputed a charge via email.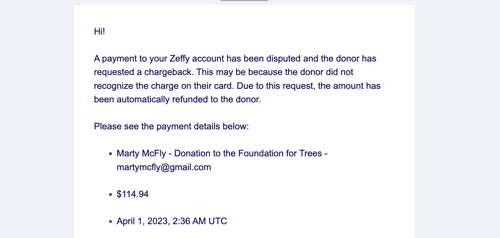 You will also see the charge appear as "disputed" in your dashboard.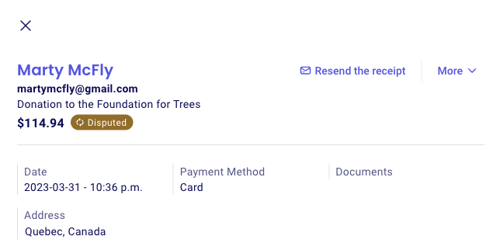 Zeffy then tries collecting as much information to determine if the transaction was legitimate. We usually have between 30 to 40 days to provide a response with evidence to the bank. Once this information is submitted to the issuing bank, we await their decision.
If the dispute is resolved in your favor, the funds will be deposited back into your Zeffy account automatically. If the dispute is resolved in the donor's favor, the donor will keep their refund.
💡 Unfortunately, we have little to no control over the result of a dispute, as it is entirely in the donor's banking institution's hands.
3️⃣ What should I do if a charge is disputed?
Contact your donor
The first thing we recommend doing is getting in touch with the cardholder to help them recognize the charge. You can then ask that they contact their bank to withdraw their dispute.
Update your statement descriptor
While our payment descriptors always start with Zeffy, you can customize what shows up after Zeffy. Having a good payment descriptor will help your donors identify their payments more easily in the future, to avoid any additional disputes.
To update your statement descriptor, you can consult the instructions here.
4️⃣ When will I know if the dispute is resolved?
As soon as the result of your dispute is available, you will be informed via email. You can see the result of the dispute in your dashboard in the "status" column.