Learn more about the different payment methods accepted by Zeffy.
💳 Credit Cards or Debit Cards
We accept credit cards (Visa, MasterCard, Amex, etc.) and CVV debit cards for all payments up to $4,999. Above that limit, only PAD / ACH will be available (see below).
🏦 ACH / PAD
Donors can also pay via direct bank transfer. When they choose the ACH payment method, they won't immediately see a field to enter their information as they would for a credit card payment. Instead, they need to click on "donate" or "complete" at the bottom of the page, at which point they will be asked to enter their banking information.
PAD/ACH transactions are safe and secure, processed through Stripe, just like credit card payments, and are PCI compliant (conforming to the highest industry standards).
Please note that for payments >1000$, the ACH/PAD payment methods will be shown by default. Donors can easily switch back to credit card payments by clicking on "other payment methods" if the amount is below the 4,999$ credit card limit.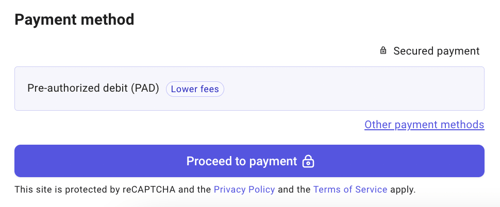 🍎 Apple Pay / Google Pay
On all forms, Apple Pay and Google Pay are automatically enabled if your users have these payment methods enabled on their devices and browsers. No need to configure them in your form settings. Note that these payment methods will not be displayed on embedded forms.
💷 Cheque
If enabled in the advanced settings of your form editor, individuals can make payments by cheque for amounts over $1000. Please note that this option is available for one-time donations only, and it cannot be used for monthly donations.