Payouts typically fail when there is an invalid bank account number.
There are several reasons why your payout might have failed. The most common reason is an invalid bank account number. Other reasons include missing information to verify your bank information, or your bank rejecting the payment. Once you enter your banking information, the payout will roll over to your next scheduled payout.
Also, it is possible that the identity verification made by Stripe has failed or is in the process of validation.
If you have a failed payout notification, please:
Log into your Zeffy dashboard on a computer.
Click on your name in the top left and then on settings.
Click on "Bank account."
Update your bank account information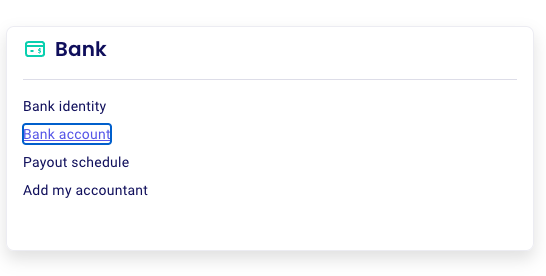 If the bank account information appears to be correct, please note the following:
The bank account must be in the name of your organisation
Payouts are made out in the name of your organisation. If the bank account information entered into Zeffy links to a personal bank account or to an account with a different name than the one entered for your organisation, it will fail.
Double check the account and routing numbers
Compare the information entered to what is written on your check. Please ensure that there are no typos in your bank account or routing number.
Make sure that the first digit typed was properly entered. When updating your bank account information, you need to press a key to clear the old number and then you can enter the first digit of your bank account.
⚠️ If you are a Canadian organization, please make sure that the bank account you entered contains 7 or 12 digits. We commonly see bank accounts with only 6 digits. It is necessary to include the check digit in your account number as well.
Once your account number has been updated, the payout will be reattempted according to your current payout schedule. For example, if your payout schedule is set to monthly, the next payout attempt following a failed payout will be the following month. You can set your payout schedule to weekly for the next payout to be attempted the following week, by going to your "Settings" > "Bank" > "Payout schedule".
Consult your bank
Before you write to our support team, please contact a representative at your bank to inquire about the failed payout. Your bank may have withheld the payout if it was made in the wrong name or if they flagged the payout.
If you require further assistance, please send us the following:
A void check for your organisation's bank (or a statement with your account and routing number if it is a savings account)
A proof that your bank account is active (transaction history, letter of confirmation from your bank, etc.)