Easily delete an organization or your Zeffy account from your dashboard.
To delete your Zeffy account, please:
Log into your Zeffy dashboard on a computer.
Click on your name in the top left corner and then on "Settings."
Under "Organization," you will see the option "Delete the organization.


➡️ If you only have one organization profile in your account, the account will be deleted.
➡️ If you have multiple organization profiles in your account, the organization in which you are will be deleted.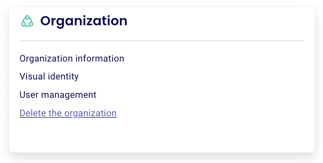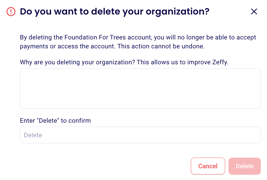 You will be asked why you no longer want to use Zeffy. This allows us to improve our platform based on your feedback. Enter "Delete" to confirm.
.
If you do not see this option, it might be because you only have a donor account! If you would like to delete your donor account, please open a chat by clicking on the icon in the bottom right of this page.