Easily generate free or complimentary items or tickets for your attendees!
To generate complimentary or free items, you will have to complete the following two actions.
💯 Add a discount code
Log into your Zeffy dashboard on a computer.
Go to "my forms", and then click "Edit" next to the name of your form.
Go to the "Advanced Settings" section of your form.
Check the option to "Add discount codes"
Add a discount code of your choice with a value of 100% and click "Save" at the top right-hand side of the page.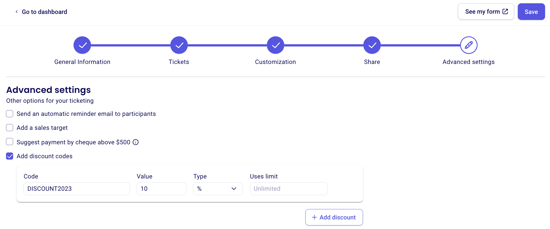 🎟️
Manually generate a payment
Once you have added your discount code, click on "my payments" in the menu bar on the left-hand side.
At the top, righthand side of the page, click on "Add payment".
You will be able to select a ticketing form and the ticket types and the number of tickets you want to generate for this buyer.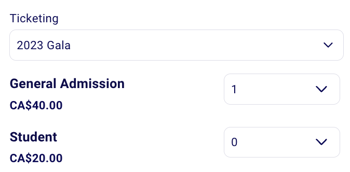 You will see the option "Add a discount code" just above the payment method.

Add the discount code that you have set and make sure to click on "check" to the right of the discount code. The code will turn green as follows if it has been added successfully!


Select the payment method that applies to this item.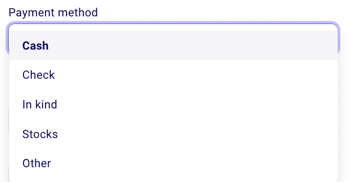 Enter your buyers' contact information. 💡 Our system is very sensitive to formatting. If you are entering an email address or telephone number, make sure that the email format, country code, and phone number are correct.
At the bottom of the window, you can check the option "Send a confirmation email" box. This will ensure that your buyer will automatically receive their confirmation email with the tickets for your event. ➡️ This option will only show if you have added a valid email address for this buyer.

⚠️ You have now created a free 0$ order in your account. If you didn't select to send the configured thank you email, make sure you send this ticket to your buyer through another channel!