Close your donation campaign to no longer receive payments on it.
🔗 To close your campaign, you can remove the link from the platforms you are sharing it on.
You can then archive or delete your form by going to "my forms." Click on the three little dots on the right to see the options to either archive or delete the form will appear.

📁 Archiving
Click "Archive" to close your donation campaign. By archiving your campaign, you will still have access to your data and will still be able to view your form. You will just not be able to receive donations on it anymore. You can "unarchive" your form at any time.
To view an archived form or to unarchive a form, filter for archived forms at the top of the "my forms" page.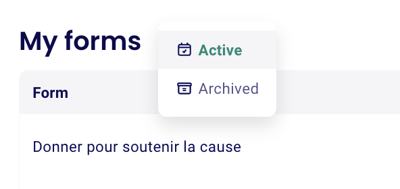 ❌ Deleting
If you want to delete the form completely, then, click on the three little dots to the right of your form and then on "delete." Make sure to export all your donations for the campaign in the section "my payments".
Deleting a form means that you no longer have access to the form in the "My Forms" section and that you can no longer sort by this form in the "My payments" section. We cannot reactivate a form once it has been deleted. However, the data on all donations will still be available in your dashboard.