You can easily edit or cancel a monthly donation on behalf of your donor from your dashboard.
To edit or cancel a monthly donation in your account.
Go to "My payments" in your dashboard.
Look for the most recent donation by the donor in question and click on it.

A page will open up towards the right.
Click on more at the top right-hand corner of the page to see the following two options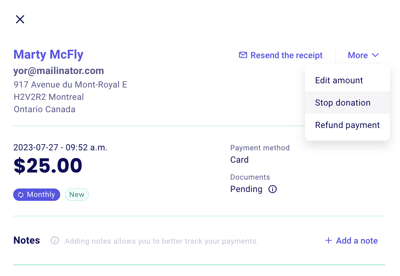 ➡️ Edit donation:
Editing the donation will allow you to adjust the donation amount. For example, if your donor was previously contributing 100$ and would like to change their donation to 120$ going forward, click on "edit donation"
💡 Note: This action is not retroactive. The donation amount will be applied to the next scheduled payment.

➡️ Cancel donation:
Clicking on "stop donation" will cancel the recurrence of this payment. In other words, your donor's card will no longer be charged for this monthly donation going forward.
💡 Note: This will not refund monthly donations that have already been made. It will simply stop the automatic payment so that your donor is not debited again.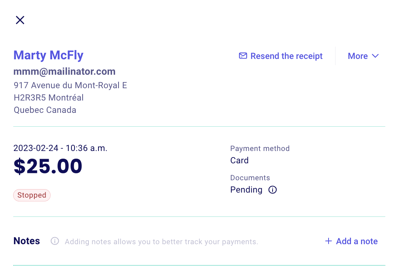 Once your donation has successfully been canceled, the status will indicate "stopped" rather than active"