Yes! You can create an online store with pictures using our e-commerce form.
You can add multiple items and pictures to your online boutique when you create an e-commerce form.
Head to the "My forms" tab and click "New form."
Select the "E-commerce" option and start building your online store.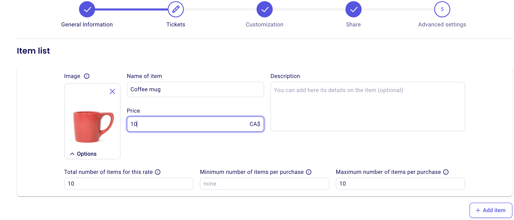 When you are in the "Tickets" step of your form creation, you will be able to list multiple items and their associated pictures.
Simply enter your item name and import the picture you would like to upload by clicking "Import your image." You can add as many items as you would like by clicking "Add item."
If you have a limited quantity of an item for sale, be sure to open the "Options" menu to input the quantity in the "Total number of items for this rate" box.
❗Attention: To optimize the presentation of the article in your form, please import a square image to your form.
💡 Pro Tip: If your sale contains the option for shipping, you can add it by creating an additional item in your store!