Easily add a free or paid registration process to your P2P campaign!
Create your P2P campaign:
Log into your Zeffy dashboard on a computer.
Click on "my forms" in the menu bar on the left.
Click on "+ New form" and select the Peer-to-Peer option

Add your general information
Add a form title, select your language, add your overall campaign target and add a description for your donors about your non-profit.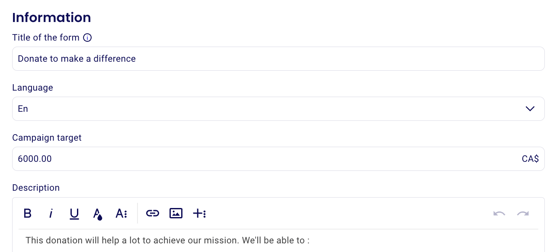 Add your registration process
Below your form description, you will be able to customize your P2P event.
Add a registration process. If you would like to add a registration process to your peer-to-peer campaign, click on "add registration process."

Customize your registration process
You will be able to add different registration rates. You can set the registration prices to 0$ if this is a free registration P2P. Alternatively, you can add rates based on the different registration types people can purchase.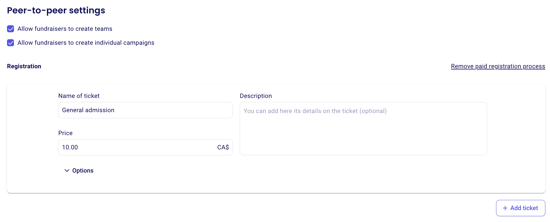 Include the registration fees in your thermometer: If you check "Include registration amount paid in the campaign thermometer," the registration fees that you collect through your registration form will be added to your peer-to-peer campaign thermometer.
Mandatory Registration: If you check the option to make the registration process mandatory. If you activate these options, individuals will have to go through the registration steps before being able to create a participant page or team page.

➡️ For more detailed instructions on how to finish setting up your P2P campaign, you can consult the following instructions:
How to set up a P2P campaign?
Your peer-to-peer now contains a registration process!
Zeffy will automatically create an event form that will contain your registration rates and more. Once your P2P form is created, you will find your registration form under "my forms" if you need to make any further edits.
Your peer-to-peer form now features a "Registration" button that will take donors to the ticketing form, where they can register for the event.