Embed your Zeffy form so that purchases can be made directly on your website.
The "iframe" link makes it possible to obtain an embedded form. This line of code must be put directly as HTML. Follow these steps to embed your ticketing onto your website:
Under "my forms," click edit next to the name of the form you want to obtain the embed code.
In the top bar, go into the "share" section.
Click on the drop-down arrow to the right of "Embed your form on your site", choose your language, and copy the link (format <iframe title='...).
In your website's Editor, paste the link into the HTML of the web page where the form should be embedded.
Adjust the value "Height" in the link until there is no scroll bar on the form.
⚠️ You need to have access to edit your website header to embed the form.

❗Please note that the embedded versions of our forms will not display your form description, images, logo, or non-profit name. This is currently how our embedded forms are set to behave – they will only show the donation and payment information, not the image and description.
If you would like more information on your embedded form, we recommend adding it to your website (above your embed, for example).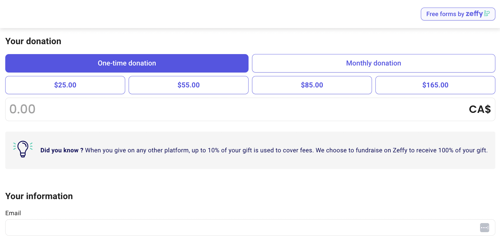 💡 Some video tutorials to help you: