Yes, you can absolutely add offline donations on Zeffy!
Adding a manual donation
If you receive donations in cash or by check, you can easily add the offline donation in Zeffy.
Log into your Zeffy dashboard on a computer.
Click on "Donations" in the menu bar on the left-hand side.
At the top, righthand side of the page, click on "Add donation".
You will be able to associate the donation to a specific donation form and enter the amount of the donation.

Select the payment method that applies to this donation.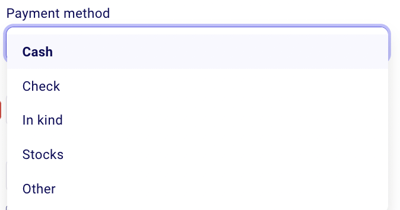 Enter your donor's email and contact information. ⚠️ Our system is very sensitive to formatting. If you are entering an email address or telephone number, make sure that the email format, country code, and phone number are correct.
At the bottom of the window, you can check the options "Generate a Tax Receipt" and "Send the configured thank you email".

➡️ If you check the option to generate a tax receipt will be generated for this donor.
➡️ If you check the option to send the configured thank you email, your donor will receive the same transaction confirmation that is automatically received by donors who made their transaction online. If you are generating a tax receipt, it will be included in the email.
⚠️ You can check either one or both, depending on the context.
Please also note that manual donation entries will be reflected in the "Money gathered" column in "Donations" > "My Forms."

Video tutorial for manual donations
If you make a mistake, you can always delete a manual entry
Go to either "Donations" > "My donations" or "Ticketing" > "My sales" depending on whether it was a manual entry for a donation for a ticketing form in your Zeffy dashboard.
Click on the manual entry. A page should pop up to the right.
Click on the 3 little dots "more" at the top right-hand corner of the page.
Click 'delete' to delete the entry.