Get your list of attendees, answers to custom questions and other relevant information about ticket holders.
This report is an excellent way of obtaining a list of your attendees. If you have requested additional information from people attending your event via custom questions, their answers will also be included in your export.
To export your purchases or ticket orders:
Log in to your Zeffy dashboard on a computer and click on "My payments".
At the top of the page, you can filter your data by form, payment date or event date.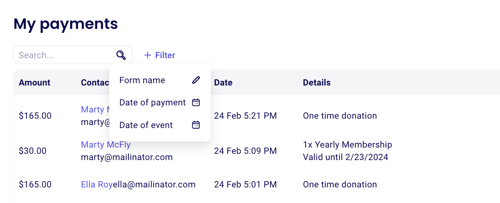 If you only wish to export data for a specific event, click on "+ filter" at the top and then on "form filled" to select the event in question.
If you have a multi-date event and want to see participants for just one date, you can also add the "date of event" filter.
Once you've filtered your data, click on the "Export" button in the top right-hand corner and your report will be automatically downloaded to your computer. ⚠️ If the file is too large to download immediately, it will be e-mailed to you as soon as it is ready.
In the export, you'll be able to see the buyer's name, ticket, number, answers to your personalized questions, and much more!
Working with your export
The export will contain all your ticket purchase information. If you use this file to track ticket purchases for your event, you can open it in third-party software such as Excel or Google Spreadsheets, and delete/filter your columns accordingly.